MyDay 1 Day Toric 90 Pack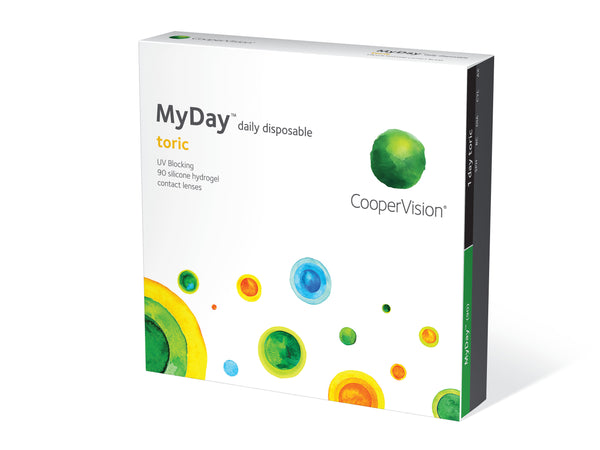 Description
The world's first 1 Day contact lenses made with CooperVision® Aquaform® Technology to help keep your eyes looking clear and white and feeling comfortable all day long. With MyDay daily disposable toric, you're ready to take on your day.
The features you'll love
Optimised Toric Lens GeometryTM

 

incorporates special design features to provide predictable orientation and stable fit for consistently clear vision.
Aquaform Technology locks in water – so you can have incredible comfort all day long – and helps your eyes stay clear and white, by delivering the oxygen your eyes need.
UV blocker helps protects your eyes against the transmission of ultraviolet rays, helping support your eye health.
Convenient daily replacement schedule with no cleaning required, so you're always good to go.
Availability : Custom Order
Toric lenses are manufactured specifically for each individual. Some prescriptions may take up to four weeks (in rare cases longer) to be dispatched.
Please be aware of this before purchasing.

We recommend you order your Toric lenses well in advance. Please email our customer service team with your prescription so we can process the order for you. 
Process/ Dispatch
As this product is a custom order, please allow 2-5 days production time from order confirmation for the lenses to be shipped.
Please note that next business day shipping guarantee has been suspended from 21/09/2021 until further notice due to COVID-19, however express shipping remain the fastest way to receive your parcel from Australia Post.